Get a Free Copy of the nuSpin Basic Player!
---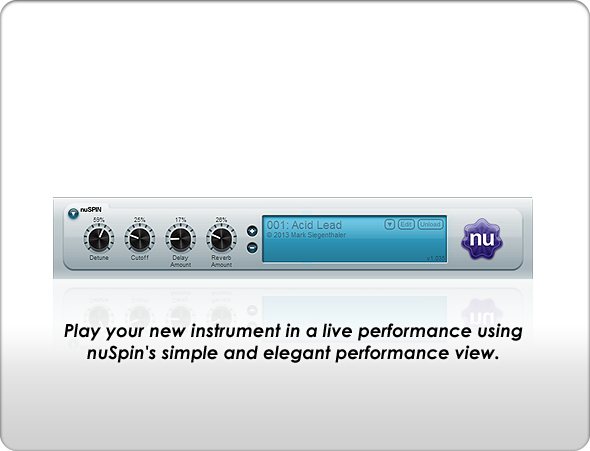 Features
VST3 Instrument: 64-bit Windows/Mac (Basic Player only, no editing).
VST2 Instrument: 32 & 64-bit, Windows Only (Basic Player, up-gradable to full feature).
69 Performance-ready presets (pads, leads, effects, percussion)
All versions support add-on content purchased from our store.
4 performance-oriented knobs
Edit programs and wave tables (VST2 only, save disabled in free version)
Sample Sounds
Here are some recent samples from nuSpin (click the arrow to play):
Chill nuSpin Basic Player ships with a variety of instruments ready to make your next song. Everything except the drums is our VST Instrument.
Jam nuSpin provides customizable filter routing so you can create some nice vowel sounds (like the bass in this example). Everything except the drums is our VST Instrument.
Orbit Great example of the blending of custom waveforms and classic analog waveforms.
Icewave Octave Bass It is easy to create and control evolving sound textures nuSpin. Our first version has 8 LFOs and 2 general purpose ADSRs that can be used to modulate parameters in the synth.
Sun Ray All sounds that ship with nuSpin will come complete with effects and are ready to drop into your next project.
Modulation Many of the programs included provide beat-synchronized modulation control.
Minimum System Requirements
Internet Connection on target machine (Required to register and update)
CPU:3.0 GHz Pentium.
1GB RAM
1 GB Disk Space
Windows XP SP2 or later
VST 2 or 3 Compatible Host.